Some of us, working in global companies, even check emails at 3 AM at night without realizing how detrimental it is to the health. We not only read just another email but also activate brain and mind to process this eventful information at odd-hours. This not only hampers body's recovery cycles but also produces toxins by slowing down digestive fire.
The competing demands of work and nonwork lives present a dilemma for employees, which triggers feelings of anxiety and adversely affects health. (Photo illustration)
Sometimes, it is self-imposed habit to remain in race and other times, it is enforced by employer in name of setting the stretched expectations.
Some friends argue: But it is my passion!
That is only one aspect of life. Life's other aspect is balance. If passion can't allow balance, it is not good.
---
Research
Employer expectations on off-hours email: new study shows adverse health effects on workers and families
---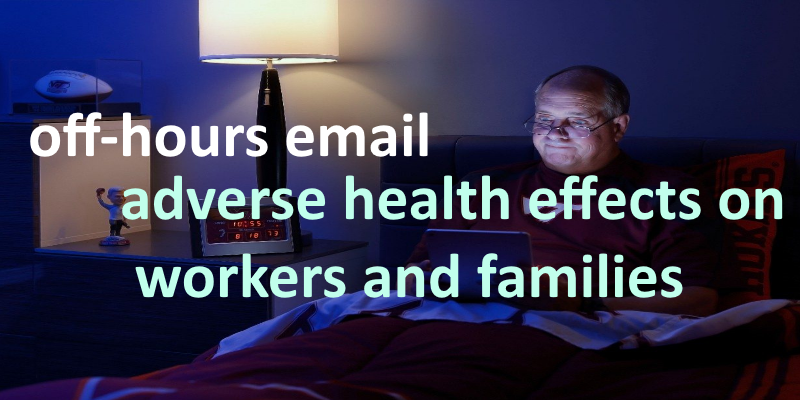 https://vtnews.vt.edu/articles/2018/08/pamplin-employer-emailexpectations.html
Employer expectations of work email monitoring during nonwork hours are detrimental to the health and well-being of not only employees but their family members as well.
William Becker, a Virginia Tech associate professor of management in the Pamplin College of Business, co-authored a new study, "Killing me softly: electronic communications monitoring and employee and significant-other well-being," showing that such expectations result in anxiety, which adversely affects the health of employees and their families.
"The competing demands of work and nonwork lives present a dilemma for employees," Becker said, "which triggers feelings of anxiety and endangers work and personal lives."
Other studies have shown that the stress of increased job demands leads to strain and conflict in family relationships when the employee is unable to fulfill nonwork roles at home — "such as when someone brings work home to finish up."
As for employees, they could consider practicing mindfulness, which has been shown to be effective in reducing anxiety, Becker said. Mindfulness may help employees "be present" in family interactions, which could help reduce conflict and improve relationship satisfaction. And, he added, mindfulness is within the employee's control when email expectations are not.