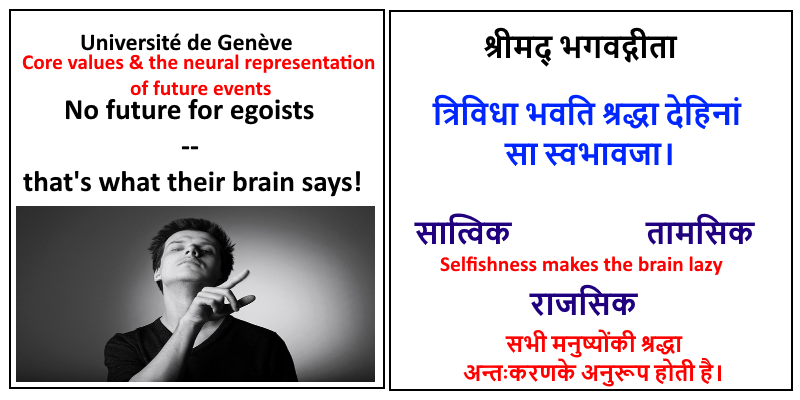 In chapter 17 of Bhagwad Gita, Arjuna had a doubt: Those who, setting aside the ordinances of the scriptures, perform sacrifice with faith, what is their condition, O Krishna? Is is Sattva, Rajas or Tamas?
Bhagwan responded  him with a truth about human nature:
त्रिविधा भवति श्रद्धा देहिनां सा स्वभावजा।
सात्त्विकी राजसी चैव तामसी चेति तां श्रृणु।।17.2।।
सत्त्वानुरूपा सर्वस्य श्रद्धा भवति भारत।
श्रद्धामयोऽयं पुरुषो यो यच्छ्रद्धः स एव सः।।17.3।।
The Blessed Lord said Threefold is the faith of the embodied, which is inherent in their nature the Sattvic (pure), the Rajasic (passionate) and the Tamasic (dark). Do thou hear of it.
The faith of each is in accordance with his nature, O Arjuna. The man consists of his faith; as a man's faith is, so is he.
And later, he explains how food selection to charity, all work based on innate prakriti.
Changing someone's innate prakriti is not an easy job. It demands herculian efforts by pious heart, a change agent, blessed by divine powers to alter someone's life. And the base of entire process is : Selfless love.
So, based on chapter 17 of Bhagwad Gita, it is clear that, it is not food that decides your nature but it is your nature that selects food and maintains your particular nature. If we want to change anyone's nature, we will first have to work on their nature i.e. स्वभाव. No easy task to alter human nature. This process starts very early in life. Before birth. This is the reason I emphasis more often on two institution most 1) Marriage 2) Parenting – Child development. Future depends on these two social norms. We must protect them. When they are of sattvik nature, we can pray mother nature to gift Sattvik generations. It is difficult to mold, already molded clay pot (Tamasik nature of grown up adults). And if you try, very hard, you may break the equilibrium. If you really are interested in building healthy future, work on children. Prepare Sattvik nature in them. Nurture them accordingly.
Now, here is the interesting paper talking about molecular basis of prakriti.
---
Research
---
Not my future? Core values and the neural representation of future events
"Some people are worried about the consequences of climate change, while others consider them too remote to have an impact on their well-being. Researchers examined how these differences are reflected in our brains. With the help of neuro-imaging, the scientists found that people deemed 'egotistical' do not use the area of the brain that enables us to look into and imagine the distant future. In 'altruistic' individuals, the same area is alive with activity."
Selfishness makes the brain lazy
The psychologists then focused on the activity in the ventromedial pre-frontal cortex (vmPFC), an area of the brain above the eyes that is used when thinking about the future and trying to visualize it. "We found that with altruistic people, this cerebral zone is activated more forcefully when the subject is confronted with the consequences of a distant future as compared to the near future. By contrast, in an egotistical person, there is no increase in activity between a consequence in the near future and one in the distant future," says Brosch.
This particular region of the brain is mainly used for projecting oneself into the distant future. The absence of heightened activity in a self-centred person indicates the absence of projection and the fact that the individual does not feel concerned by what will happen after his or her death. Why, then, should such people adopt sustainable forms of behaviour?
Set your projection capabilities to work
These outcomes, which can be applied to areas other than climate change, demonstrate the importance of being able to think about the distant future in order to adapt one's behaviour to the future constraints of the world. "We could imagine a psychological training that would work on this brain area using projection exercises," suggests Brosch. "In particular, we could use virtual reality, which would make the tomorrow's world visible to everyone, bringing human beings closer to the consequences of their actions."
https://link.springer.com/article/10.3758%2Fs13415-018-0581-9