==========================
Modern Ayurveda and Prescribed Ayurveda
==========================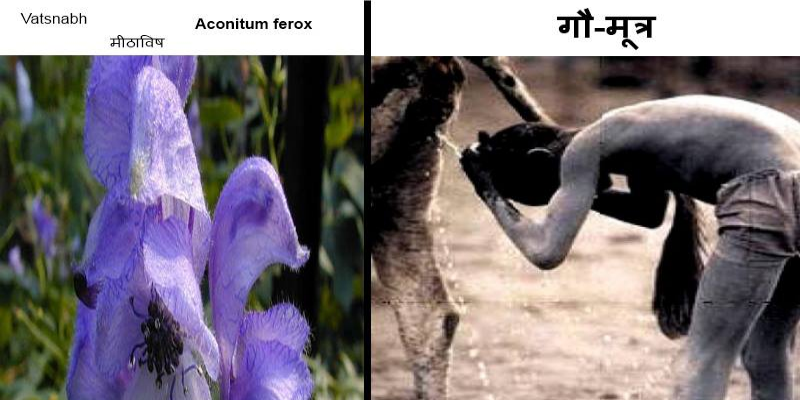 Sanskrit Name: Vatsnabh
Hindi Name: MeethaVish
English Name: Monks hood
Latin Name: Aconitum ferox
A deciduous perennial that grows to 1.0 meters (3.3 feet) high by 0.5 meters (1.65 feet) wide and prefers many types of soil with a pH ranging from acid to alkaline and partial to full sun with moderate moisture. This plant has hermaphrodite flowers and is hardy to zone 6 and is pollinated by bees. Habitat: E. Asia – Himalayas. Shrubberies and forest clearings, 2100 – 3600 meters from C. Nepal to Bhutan. This plant might do well located along a dappled edge or in a woodland garden.
Pacifies Vata and Kapha. It is a very famous medication in Ayurveda for fever and all inflammatory conditions. It has a diuretic action, causes bradycardia and reduces sweating. On local application in the form of a paste made out of root powder it reduces swelling and pain and is thus used frequently in Arthritis.
I have given this example to discuss one important point.
I always wondered, despite having such vast knowledge as cultural legacy, why Ayurvedic treatment is not showing results as expected in all cases?
There are several reasons. Two reasons that come to my memory immediately are
1) Lack of lifestyle alternations. Ayurvedic prescribes lifestyle alteration along with medication and we the modern men, don't like to alter our life for betterment.
2) Lack of authentic Ayurvedic doctors. Those doctors who perform Ayurveda in modern ways (mass production of medicines, lack of purification as per prescription, long shelf life preservation) are not authentic in my view. For example:
Shiv Sharma was great Ayurvedacharya of 19th Century Bharat. He was son of Chief Medical officer of Patiala state. In his book preface (Book: Hindi Translation of Rasratna Samuccaya), he mentioned following incident:
Shiv Sharma mentioned incident of administration of Vatsnabh. Vatsnabh based medicine was purified and prepared by two methods 1) Ayurvedic way 2) Modern way and was injected separately to persons and found that person injected with the one purified by modern methods showing poisonous effects, whereas the one prepared by Ayurvedic method showed no such poisonous effects, thus proving the superiority of the Ayurvedic ways. According to Shiv Sharma, in Ayurvedic way, purification of Vatsnabh should be done by boiling it in the urine of cow which is impure for so called modern men's chemical sense! From this, it becomes clear that procedures peculiar to Veda, though look crude to our impaired intellect, must not be compromised.[1]
[1] Preface of Hindi Translation of Rasratna Samuccaya
This post was written in 2013.