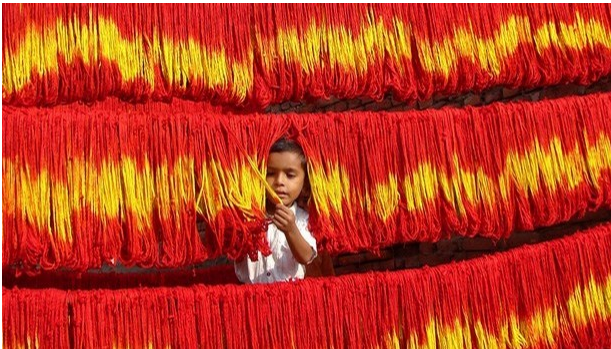 "પપ્પા , તમે પૂજામાં બાંધેલો આ લાલ દોરો કેમ લાંબા સમય સુધી રાખો છો? મમ્મી મારો દોરો થોડા સમયમાં કાઢી તુલસીમાતાને ચઢાવી દે છે ?"
"બેટા, ખુબ સરસ પ્રશ્ન છે ! જે લાલ દોરો બાંધીયે છે એને નાડાછડી , કલાવા કે મૌલી કહેવાય। એ માત્ર સનાતન  ધર્મ ચિન્હ માત્ર નથી પણ એમાં કેટ કેટલાય શુભ આશય રહેલા છે। .સાદી  ભાષામાં કહું તો। ..કોઈપણ પૂજા કરતી વખતે સંકલ્પ લેવાનો હોય છે। આ સૂત્ર મને એ સંકલ્પ યાદ કરાવે છે અને એના એક એક તાંતણા માં પૂજામાં આવેલ દેવોનો આશીર્વાદ રહેલો હોય છે કે જેથી સંકલ્પ સિદ્ધ થાય.જ્યાં સુધી સંકલ્પ પૂરો ન થાય ત્યાં સુધી હું એને રાખું છું !"
"સંકલ્પ એટલે ?"
"સંકલ્પ એટલે એક સ્વાર્થ રહિત એવો નિર્ણયકે જેના સિદ્ધ થવાથી પરિવાર / સમાજ /રાષ્ટ્ર /સૃષ્ટિ નું કલ્યાણ થાય "
"પોતાના માટે સંકલ્પ  ના હોય ?"
"હોય ને ? કેમ તારે ફરીથી નાડાછડી બાંધવી છે ?"
"હા ! હું કેવા સંકલ્પ લઇ શકું ?"
"વ્યક્તિગત સંકલ્પ જેમકે હું ક્યારેય ટીવી નહિ જોવ। ..હું શરીર ને યોગ્ય ખોરાક માત્ર ભૂખ લાગી હોય ત્યારે જ ખાઈશ। હું હંમેશા ગૌ સેવા કરીશ વડીલની સેવા કરીશ ..વગેરે વગેરે "
"તો ચાલો ઘરે..આજે હું સંકલ્પ લઇ જ લઉં !"
— ઘરે આવીને —
"પપ્પા। ..હું સંકલ્પ લઉં છું કે હું ટીવી નહિ જોવ! હવે બાંધો નાડાછડી !"
"તથાસ્તુઃ  બેટા ! ખુબ સુંદર  !"
સંસ્કૃતિ રક્ષણ ત્યારે જ થશે કે જયારે આપણામાં એ જીવંત હશે અને આવનારી  પેઢી એની નોંધ લઇ એનું મહત્વ સમજશે !
---
"Pappa! This read thread that we tre during pooja..you never remove it for long! Mom removes my thread after sometime!"
"Great question beta! The red thread you see is called Kalava or Mauli. It has deeper meanings in our ritualistic dharma but I will tell you in simple terms. Whenever we perform pooja, we take some vow to observe in life. This thread reminds me it and I keep it until I achieve the vow decided in life."
"Vow?"
"Vow is either selfless goal or habit that we wish to follow in life for the benefit of family, society , nation or the universe!"
"Can't it be for self?"
"Yes..sure. Do you wish to tie it again?"
"Yes!"
"Yes, it can be. It can be related to some habits that can help us improve our life and align life to ultimate goal of life."
"Let's go home. I will tie and and take a vow!"
— After reaching home—
"Pappa! I take a vow that I will never watch TV. Now tie the thread!"
"Wonderful! As you wish!"
Culture thrives only when the tenets are alive in our life, demonstrated well so that next generation not only notices it but also adopt it wholeheartedly!