I have shared it many times that the ultimate way of cancer prevention is to restore Prana in body. It is lack of prana/blockage of Nadi, that causes cancer.
Gut Bacteria, like any other body organ, is manifestation of Prana. And they being non-organ self of body, play critical role in well-being of body organs.
We can prevent cancer easily. Even cancer management is also less painful compare to modern chemo and radiation torture.
Three fundamental source of Prana for restoration
Raw Prana from the Sun
Churned Prana from Desi cow's milk and ghee
Food grown on the soil replenished by raw and churned prana (Sun light, cow dung, urine, milk, butter milk)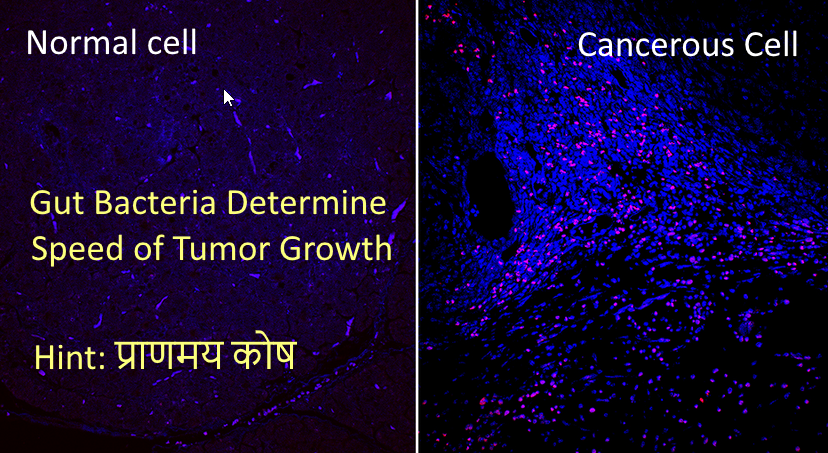 ---
Research
---
Gut Bacteria Determine Speed of Tumor Growth in Pancreatic Cancer
https://nyulangone.org/press-releases/gut-bacteria-determine-speed-of-tumor-growth-in-pancreatic-cancer
The population of bacteria in the pancreas increases more than a thousand fold in patients with pancreatic cancer, and becomes dominated by species that prevent the immune system from attacking tumor cells.
These are the findings of a study conducted in mice and in patients with pancreatic ductal adenocarcinoma (PDA), a form of cancer that is usually fatal within two years. Led by researchers at NYU School of Medicine, Perlmutter Cancer Center, and NYU College of Dentistry, the study published online March 22 in Cancer Discovery, a journal of the American Association for Cancer Research (AACR).
Specifically, the study found that removing bacteria from the gut and pancreas by treating mice with antibiotics slowed cancer growth and reprogrammed immune cells to again "take notice" of cancer cells. Oral antibiotics also increased roughly threefold the efficacy of checkpoint inhibitors, a form of immunotherapy that had previously failed in pancreatic cancer clinical trials, to bring about a strong anti-tumor shift in immunity.
Experiments found that in patients with PDA, pathogenic gut bacteria migrate to the pancreas through the pancreatic duct, a tube that normally drains digestive juices from the pancreas into the intestines. Once in the pancreas, this abnormal bacterial mix (microbiome) gives off cellular components that shut down the immune system to promote cancer growth, say the authors.