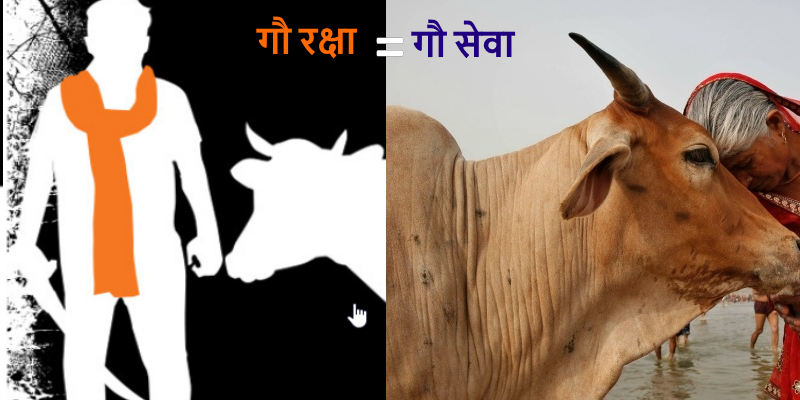 This post was written when respect prime minister of India scolded cow related movements.
प्रधान मंत्री in his defense on twitter: गौ रक्षा नहीं गौ सेवा करो!
Prime Minister Narendra Modi ji! Please don't confuse mass by throwing jargon from national platform.
We need both. गौ रक्षा is राष्ट्र धर्म & गौ सेवा is स्व धर्म! Performing धार्मिक duties is expected from anyone who prefer to live peaceful life on this terrain. Zero tolerance!
Yes, you are right. There are anti-social elements. They are everywhere! Please take actions! Who stops you! We are with you! But don't malign धर्म duties! You, youself once praised Shivaji Maharaj for गौ रक्षा!
The eternal cycle of Van Raksha, Bhu Raksha, Jal Raksha and Pashu Raksha is the back-bone of sustainable economy, ensuring a decent and dignified life for even the poorest of the poor. In this background, our animals, particularly the bovine animals (cows and buffaloes) and sheep and goats are to be considered our national wealth, to be preserved, protected and expanded. Unfortunately, this sector has fallen in neglect.
The faulty policies of the Government in Agriculture and Animal Husbandry sector have dealt a death-blow to both these sectors. The policy of using chemical fertilisers has spoiled the soil fertility, turning it into barren lands and the policy of cross-breeding has made many of our breeds almost extinct.
Do you have to say anything about taking hard actions against chemical fertilizers policies? You and your govt feel self-pride in increased production of urea under your tenure! This is nothing but worse than cow-slaughter! गौ-सेवा?
Apart from these indirect blows, there is direct destruction by way of unfettered slaughter. This activity now enjoys State patronage, protection and active encouragement. There are about 4000 authorised slaughter-houses in the country and more than 1,00,000 illegal slaughter houses. The meat export policy of the Government had added fuel to the fire. Let us analyse and interpret some published statistics.
In the year 2000-2001, about 2,88,000 M.T. of buffalo meat was exported (Source: Reply to question No. 3313 in Lok Sabha on 10-12-2001) and the Government claims that this is just 4% of the meat produced in the country (Source: Reply to Question No.1112(H) in Lok Sabha on 23-11-2001), which means that the total buffalo meat production in the country is 72,00,000 M.T. A grown up buffalo yields 75kg. of meat (out of average body weight of 300 kg.). Thus for obtaining 72 lac M.T. about 9,60,00,000 buffaloes are slaughtered!
This figure is ridiculous, as the total buffalo population of the entire country was 7,59,66,000 in 1987 and 8,42,06,000 in 1992 according to the census figures published by Directorate of Economics & Statistics, Ministry of Agriculture, Government of India. It is intriguing that no census figures at the National Level are available after 1992 and the Meat Export was given a major thrust after 1992 only. What has been the impact on bovine population after 1992 (after the aggressive Meat Export Policy) is anybody's guess.
So, please don't give us sermons. Act.
With Regards,
Gau Rakshak!
Btw, above facts are taken from 2002 Cattle Commission Report which your govt is ignoring like Congress govt did for last 12 years!
Reference: http://dahd.nic.in/related-links/chapter-iii