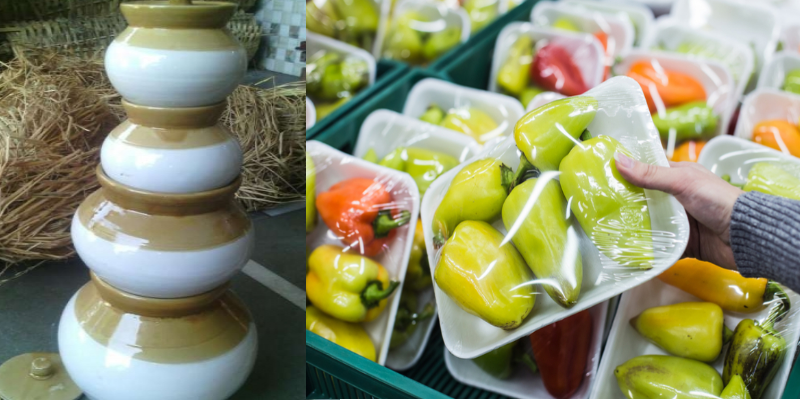 One of my social media like minded friends, Bimal Das ji, asked valid question. Indian market is now flooded with so called organic products. It is different thing that, common mass is not aware about real meaning of organic food. And packaging still attracts better than quality. So all so called organic food is sold in plastic packaging. Sometimes, I wonder, how come organic food has long shelf life when the material used to pack will degrade its prana rapidly.
What is the impact of packaging material used to carry organic food?
It certainly has impact. Negative impact. Both packaging and storage.
Ghee, Honey, Jaggery – always in glass bottles. Preferably no sunlight exposure. Chinai mitti as option.
Fruits, vegetables and grains transport in hemp bags.
Bimal Das ji responded

"Plastics no because polymers, additives and plasticisers leach into food which are mostly carcinogenic .

Glass and mitti jars were only packing containers before , however they are fragile, heavy and may cause transportation loss.

There is scope for research in this field. Till then use local and refill your own containers from neighborhood shops as before.

Local pickles, dairy products, bakery products all were there, let us bring them back."
Here is the interesting option shared. Link by @james bong on FB
Hemp Fiber for Food Packaging
While hemp fiber is classically associated with being as a textile fiber such as for t-shirts, there are many other uses. Of course not all hemp fibers are textile grade, such as those that are the stalks from hemp seed crops. Consequently, a European research project is unpacking the properties of hemp into natural, renewable & biodegradable food packaging. And we're not talking about rough burlap bags or paper forms. It's a true plastic and is commonly referred to as bioplastic since it's not derived from petroleum.
The Traysrenew project in the European Union (EU) was a multi-year project involving a consortium of manufacturers drawn from across the supply chain with researchers from Spain and England. The goal was to produce food trays for poultry products that are cost effective, renewable, and higher performance than their conventional counterparts which are made of Polystyrene (PS) or Polypropylene (PP). The food trays would be made from biopolymers which are derived from bast fiber plants including hemp and flax. The poultry sector was chosen due to its high volume, being that it produces approximately 11 million tons of meat annually in the EU, with an average per capita consumption of 50.6 pounds (23 kg) each year.
The interest on this kind of green packaging is being driven by both the industry and consumers. Manufacturers want lower costs and increased shelf life; consumers want fresh and safe food available in addition to products that reflect their values.