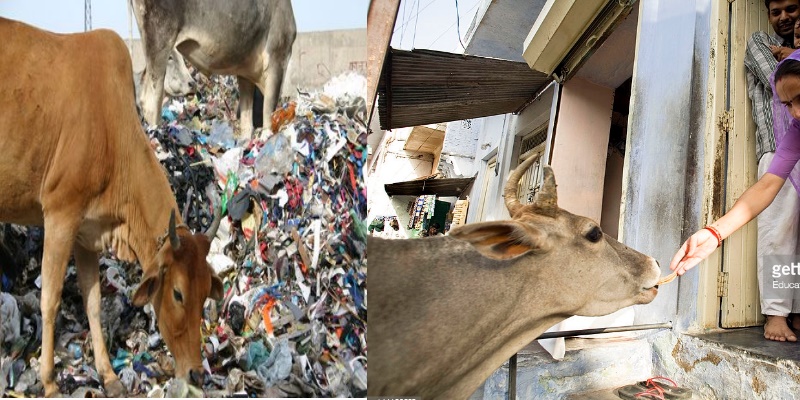 Our culture has highest morals set as long as food management is concerned. Because we consider food as sacred as our God. Without food, there is no life. Without food, there is no civilization. This land was known as land of abundance. We used to serve food to entire world.
Here is the quote from scripture:
मोधमन्नं विन्दते अप्रचेता: सत्यं ब्रवीमि वध इत्स तस्य।
नार्यमणं पुष्यति नो सखायं केवलाधो भवति केवलादी।।
ऋग्वेद के इस मंत्र में तो यहां तक कहा गया है कि धन-सम्पदा का अकेले भोग करने वाला व्यक्ति पाप का ही भोग करता है। अकेले भोग करने वाला व्यक्ति तो व्यर्थ ही अन्न, धन आदि सामग्रियों को प्राप्त करता है क्योंकि ऐसे व्यक्ति के लिए उसकी अपनी सम्पत्तियां ही मृत्यु का कारण बन जाती हैं। ऐसे व्यक्तियों का धन न तो सत्यवादी विद्वानों का पोषण करता है और न ही उसके आपत्तिग्रस्त सम्बन्धियों का। वैदिक काल से इस मंत्र का उच्चारण सामूहिक भोज के बाद किया जाता रहा है।
(English Summary: Your wealth is useless trash if you earn just for own sake. All your such wealth becomes reason for your premature death. Such wealth never helps the society in despair and hence useless. We chant this mantra after serving free food to needy)
Before planning for own meal, we plan for cow's food, dog's food, birds' food. We arrange food for them before we eat.
Now, cows eat leftover food from dustbins. Street dogs also fight for sanitary napkins in trash. Birds still get it because someone told our selfish junta that if you feed the birds, you get good fortune!
🙂 You know…greedy give and take!
🙂. No ulterior motive!
We have hoarders who sale staple food at unimaginable prices! Our milk comes from torture cycle setup by dairy.
Society was never in such food mess before as we are currently. God bless our kids. (Y)