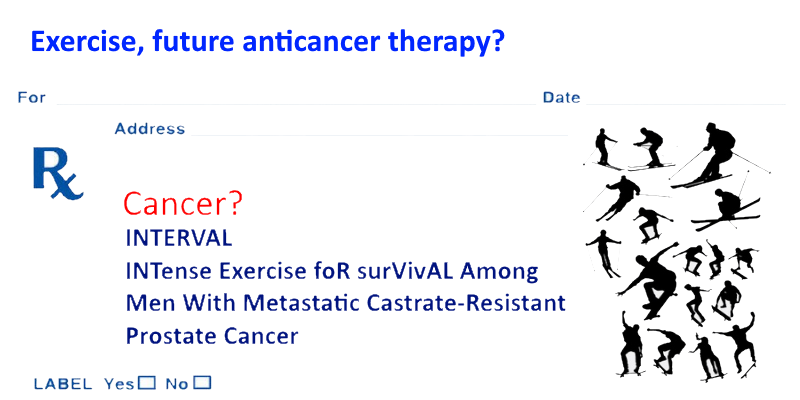 What more to say?
Do you exercise? It is best prevention with combination of regular routine and Satvik food.
Exercise + Rhythmic regular life + Food = प्राणवान जीवन
---
Research
---
Exercise, future anticancer therapy?
At age 70, Alfred Roberts plays hockey twice a week. Nothing special, right? Except that for three years he has had advanced prostate cancer, which has spread to his bones. "I've always been active. Hockey keeps me in shape and keeps my mind off things. I've got friends that have played until age 80, and my goal is to beat them!" said the veteran stick handler.
Several studies have demonstrated the benefits of exercise to improve the quality of life of people with cancer. But Dr. Fred Saad, urologist-oncologist and researcher at the University of Montreal Hospital Research Centre (CRCHUM), goes further. He believes that physical exercise has a direct effect on cancer, as effective as drugs, for treating patients with prostate cancer, even in advanced stages of the disease.
"We will study exercise as if it were a drug added to standard treatments. All patients will be treated within the latest scientific knowledge for this type of cancer. They will continue to follow their therapies and take their medications. But half of the patients will receive psychosocial support with general recommendations on physical exercise. The other half will also follow a high intensity exercise program," he explained.
The exercise medicine expert Professor Robert Newton has designed a specific strength and cardiovascular training program for patients in the "exercise" group. "They will have an hour of aerobic and resistance training three times a week. An exercise specialist will supervise them for the first 12 months, and then they will continue without direct supervision. We will evaluate quality of life, appetite, and treatment tolerance in relation to their improved physical condition," said Professor Newton, who is co-director of the Edith Cowan University, Exercise Medicine Research Institute.
Blood samples and muscle biopsies will help scientists better understand the benefits of exercise. "People with cancer develop all sorts of complications related to metastases, such as fractures or severe pain. It is hoped that exercise will strengthen muscles and bones," said Dr. Saad.
https://clinicaltrials.gov/ct2/show/NCT02730338?term=INTERVAL+and+prostate+cancer&rank=2
http://www.eurekalert.org/pub_releases/2016-05/uomh-efa052016.php