Burnout syndrome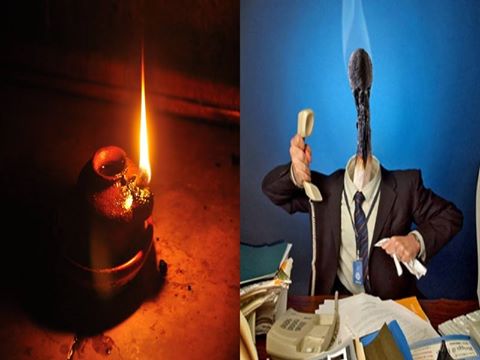 Life span is limited. Ideally, one can stretch it up to 100 years. With our present life style, it is shrunk to 60s or 70s. Keeping this limited life in mind, every year, Diwali presents us two options related to light/fire.
Be a oil lamp that consumes life's impurities and spreads the light of knowledge – a life spent in search of self by different ways – research, reading, meditation, running, exercise, work, family etc.
Or be a burnt out matchstick – a state of mental and physical exhaustion caused by one's professional life and its chronic stresses. Dead and gone in 60 seconds.
Work-life balance. An internal flame to improve self, to live pious life, to live life for self-realization, to live selfless life, to live healthy and happy life. Think about it. How do we want to live life?
——————-
Herbert Freudenberger, a New York psychoanalyst, coined the term "burnout syndrome" in the early 1970s to describe a state of mental and physical exhaustion caused by one's professional life and its chronic stresses. In response to mounting task loads, the wretch piles on the hours at work, pulling late nights at the office, ignoring exercise, and skipping meals or eating unhealthful fast food on the run cancel personal commitments to family and friends. Sooner or later the work efficiency declines, with poor concentration, fewer creative ideas, self-dissatisfaction, and lagging self-esteem and anxiety about failure, and depression. Some may seek solace in alcohol or pills. Some even attempt suicide.
Herbert Freudenberger used this term to describe the consequences of severe stress and high ideals experienced by people working in "helping" professions. Doctors and nurses, for example, who sacrifice themselves for others, would often end up being "burned out" – exhausted, listless, and unable to cope. Nowadays, the term is not only used for these helping professions, or for the dark side of self-sacrifice. Anybody seems to be at risk: stressed-out careerists and celebrities, over-worked employees, or homemakers. "Burnout" has become a popular term.
Save yourself from being "burned out". Happy Diwali.