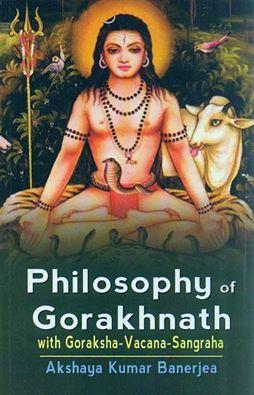 There is nothing greater than guru, nothing greater than guru, nothing greater than guru, nothing greater than guru.
Shiva is the instructor. Shiva is the instructor. Shiva is the instructor. Shiva is the instructor." – Siddha Siddhanta Paddhati, V, 63.
This Sanskrit text, attributed to Siddha Gorakhnath, is divided into six chapters called Upadeshas.
Gorakhnath takes a comprehensive view of the nature of human individuality and analyses its constitution from the yogic standpoint. He conceives the human organism as consisting of
(I) the material body called Bhuta-plnda,
(2) the mental body, described as Antahkarana pancaka or five-fold antahkarana,
(3) Kula.pancaka or five-fold Ku!a.
(4) Vyakil-pancaka or five-fold Vyakti,
(5) Pratyakha-ka,ana.pancaka or five-fold perceptible determinant causes,
(6) The system of the Nadis,
(7) Dasa.Vayu or ten Prana.Vayu or vital forces, forming the vital body.
(1) The gross material body :— The Bhuta pinda (or Bhautik .pinda), i.e. the material body, is constituted of the five gross material elements, purposefully organised by the Creative Will of Brahma with the Life-power and the Mind-power immanent in the organism. In different parts of the organism, however, different elements appear in more conspicuous proportions. In bones (asthi), flesh (mãmsa), skin (twak), tissues (Nadi) and hair (roma)—i.e. in all the solid parts,—the element of Bhumi or Prithwi appears predominantly, and Gorakhnath speaks of them as the five gunas (perhaps in the sense of special manifestations) of Bhumi.
In the liquid substances of the body,— such as, saliva (lara), urine (mutra), semen (sukra), blood (sonita) and sweat (sveda),— the element of Ap or Salila appears more conspicuously, and they are called the five gunas of Ap.
Hunger (kshudha), thirst (trishna), sleep (nldra), lustre (kanti) and sloth (âlasya) are conceived by Gorakhnath as physical phenomena, in which there are special manifestations of the clement of Tejas. According to him, these phenomena occur on account of the varying functions and influences of Tejas or Agni in different parts of the living body.
Movement (dhãvana), fidgeting (bhramana), expansion (prasörana), contraction (ãkuncana) and suppression (nirodhana) are bodily phenomena, which are chiefly determined by the element of Vdyu and are therefore called Gunas of Vãyu.
The phenomena of physical attraction (raga), repulsion (dwesha), fear (bhaya), shame (IaJJa) and callousness (moha) are regarded as the special manifestations of the clement of Akasa and are accordingly described as the five Gunas of Akasa.
Thus the Mahayogi describes the gross physical body as constituted of the five gross bhutas and as possessing twenty-five gunas mentioned above.
More to continue.. (From the book mentioned in image)