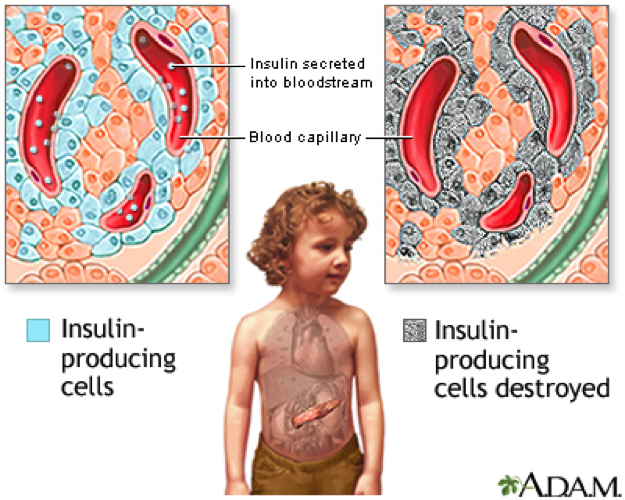 As I write here, group of doctors in my city are discussing Type 1 Diabetes in National level conference.
Type 1 diabetes is usually diagnosed in children and young adults, and was previously known as juvenile diabetes. It is rapidly increasing immune system disorder. You might not imagine but it is really painful life situation for a kid and entire family.
While we are promoting so called ambitious 'Make in India' slogan of Prime Minister, we should note that the autoimmune form of diabetes that begins in childhood and requires insulin injections (juvenile or Type 1 diabetes) has been doubling in incidence about every twenty years across the industrialized world. So we are not left behind. I expect more cases in upcoming 5 years.
The average age of diagnosis used to be about nine. Now it is around six, and some children are becoming diabetic when they are three. Some get is from their mother.
What is the root cause?
Doctors don't know all the factors that lead to type 1 diabetes. But they do know that it is due to environment. Depressive environment, highly sterile environment (Too much use of floor cleaner, dettol soaps, repellent liquids etc) , overuse of antibiotics, pesticides in food, urea in milk (Yes! Milk you get from dairy has urea substance sometimes), lack of exposure to nature, 24×7 air conditioning, lack of probitoc food in diet (Jaggery, curd, butter milk, ghee, milk) – these are some environmental reasons that can cause extreme stress for immune system and triggers the immune system to mistakenly attack the pancreas and destroy the beta cells of the pancreas to the point where they can no longer produce sufficient insulin.
For modern medicine, insulin injections is the only solution.
For Ayurveda, changing environment is the solution. Take care.
1) Expose your kids to mud, soil, sand and plants . Develop terrace garden and let the kids manage it under your supervision.
2) Plan trips to Jungle during months of winter
3) Include pro-biotic natural food in diet (And not the factory made butter milk, curd and supplements)
4) Stop your obsession of being at sterile home. (As Dettol and Lifebouy Ads educate you falsely). Floor cleaning using warm water is enough. Rubbing hands with water for 30-45 seconds is enough. We don't need chemicals to clean hands. Or use soil or gau dung ash.
5) Maintain cheerful ambiance at home. Do not quarrel in front of kids.
6) Have proper ventilation at home. Let there be fresh air and sunlight
7) Avoid antibiotics if not needed