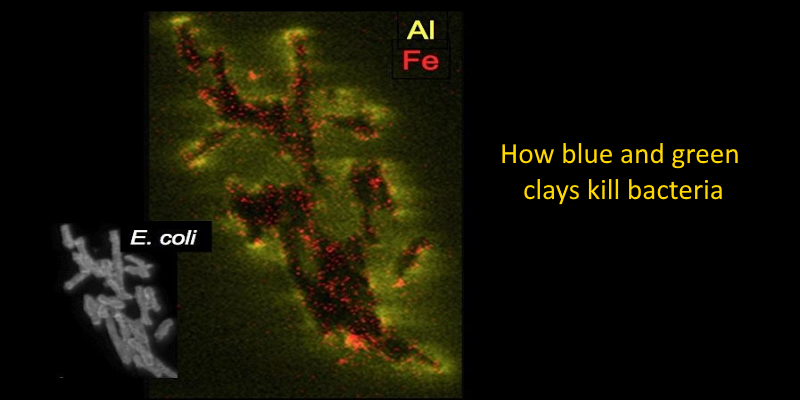 In urban area, there is polluted clay. In farm, there are toxic fertilizers and pesticides. On top of it, modern parents are under severe delusion of hygiene hypothesis spread by TV Ads. So they don't allow kids to go and play in dirt.
One more study shows that clay contact is essential for stabilization of Prana and purging of toxins from body (i.e. in modern parlance, killing bacteria)
Plan visits to organic farms, Gau shala and jungles with kids! Let them play in dirt. Let there be essential grounding and bonding with mother Earth! Let mother wipes out toxins from body!
---
Research
---
ASU scientists discover how blue and green clays kill bacteria
Since prehistoric times, clays have been used by people for medicinal purposes. Whether by eating it, soaking in a mud bath, or using it to stop bleeding from wounds, clay has long been part of keeping humans healthy. Certain clays have also been found with germ-killing abilities, but how these work has remained unclear.
"We think of this mechanism like the Trojan horse attack in ancient Greece," said Lynda Williams, a clay-mineral scientist at ASU's School of Earth and Space Exploration (SESE). "Two elements in the clay work in tandem to kill bacteria."
She explained, "One metallic element — chemically reduced iron, which in small amounts is required by a bacterial cell for nutrition — tricks the cell into opening its wall. Then another element — aluminum — props the cell wall open, allowing a flood of iron to enter the cell. This overabundance of iron then poisons the cell, killing it as the reduced iron becomes oxidized."
Read more : https://asunow.asu.edu/20160106-asu-scientists-discover-how-blue-and-green-clays-kill-bacteria