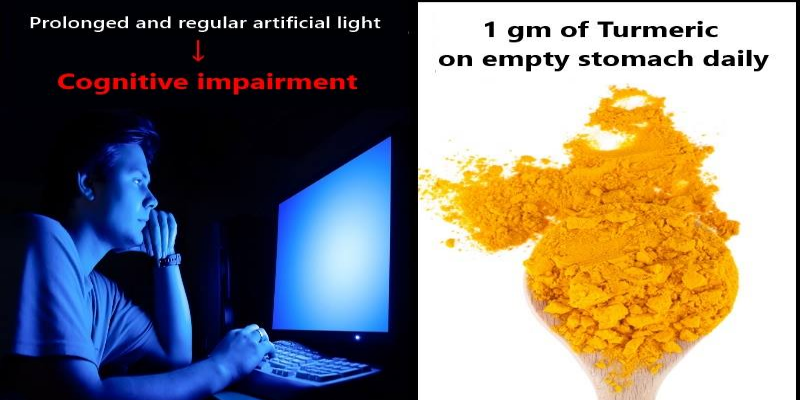 Admit it – We indeed are having cognitive problems in youth now at epidemic level. Erratic behavior, psycho activities, memory loss, irresponsible responses etc.
Major cause is: Irregular bio-rhythms and irregular life routine. Irregular life is either forced by social norms (night shift job, late night family parties) or self-earned.
Solution is to amend the routine as early as possible and start cure for damage done so far.
Turmeric is Mother Nature's greatest of boons. Start taking 1 table spoon of turmeric every morning with empty stomach (followed by water from copper vessel if you need it). And then do not consume anything for 2 hrs. Keep this routine for at least 90 days.
Turmeric available in market is not pure. Try to avail organically grown farm fresh turmeric (which can have full of curcumin oil) and grind it at home.
Start it before it is too late. Turmeric is also good for slowing down aging and fighting against cancer and other immune system disorders.
Necessity is mother of invention. Post-industrialization, mankind has disturbed human body's circadian rhythms (A daily cycle of activity observed in many living organisms which depends on Sunrise and Sunset) severely by including post-sunset activities under artificial lights. There is 24×7 work culture now. Effects are inevitable. You see many among us with memory loss in young age. So it became necessity to invent memory supporting tools (From To Do list to modern smartphones)
Result? Slow but gradual degradation human mind's strength like memory.
1) Keep low light at home after sunset
2) Avoid artificial lights at work (I know this is difficult but critical )
3) At least spend time in nature during sunrise and sunset
4) Make sure your kids sleep early (so that they avoid artificial lights for long)
How artificial light is wrecking your sleep, and what to do about it
Blue light and melatonin suppression
It is well established that short-wavelength or "blue" light is the most melatonin-suppressive; this is the type of light typically emitted by devices such as televisions, computer screens, and cellphones. (14, 15) To produce white light, these electronic devices must emit light at short wavelengths, close to the peak sensitivity of melatonin suppression. (16) This means that products such as tablets, smartphones, and other devices with self-luminous electronic displays are major sources for suppressing melatonin at night, thereby reducing sleep duration and disrupting sleep. (Figure credit: Wood et al, 2013)
How artificial light is wrecking your sleep, and what to do about it
Spice up your memory
http://www.monash.edu/news/articles/spice-up-your-memory
Adding just one gram of turmeric to breakfast could help improve the memory of people who are in the very early stages of diabetes and at risk of cognitive impairment.
The finding has particular significance given that the world's ageing population means a rising incidence of conditions that predispose people to diabetes, which in turn is connected to dementia.
Early intervention could help to reduce the burden, whether by halting the disease or reducing its impact, said Emeritus Professor Mark Wahlqvist, from the Monash Asia Institute at Monash University.
Professor Wahlqvist recently led a study in Taiwan that tested the working memory of men and women aged 60 or older who had recently been diagnosed with untreated pre-diabetes.
"Working memory is widely thought to be one of the most important mental faculties, critical for cognitive abilities such as planning, problem solving and reasoning," he said.
"Assessment of working memory is simple and convenient, but it is also very useful in the appraisal of cognition and in predicting future impairment and dementia."
In the placebo-controlled study, subjects were given one gram of turmeric with an otherwise nutritionally bland breakfast of white bread. Their working memory was tested before and some hours after the meal.
"We found that this modest addition to breakfast improved working memory over six hours in older people with pre-diabetes," Professor Wahlqvist said.
Turmeric is widely used in cooking, particularly in Asia. Its characteristic yellow colour is due to curcumin, which accounts for 3 to 6 per cent of turmeric and has been shown by experimental studies to reduce the risk of dementia.
"Our findings with turmeric are consistent with these observations, insofar as they appear to influence cognitive function where there is disordered energy metabolism and insulin resistance," Professor Wahlqvist said.
The study, which was published in the Asia Pacific Journal of Clinical Nutrition, also involved a number of research institutes in Taiwan.