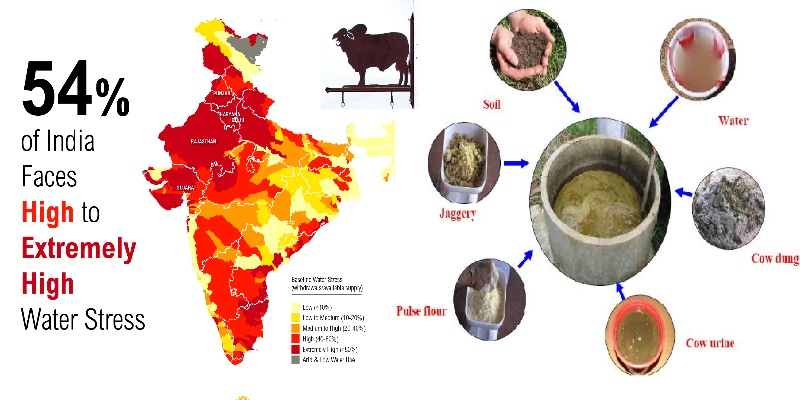 All Utopians criticizing beef ban, remember one thing : Without her, situation will be worse than predicted.
And all who are rejoicing for MH-Law, don't stop here! Come out from your homes, do Gupt daan to farmers and inspire them to do Gau-based farming!
At least, spend 10% of your earning in Cow-protection. Both your time and money. Must!
All your idealistic human rights ideas will become dust when tap at home won't give water!
Read this:
गोबर की खाद जब हम खेत मे डालते है तो होता क्या है ?? दरअसल गोबर जो है वो बहुत तरह के जीव जन्तुओ का भोजन है और यूरिया भोजन नहीं जहर है आपके खेत मे एक जीव होता है जिसे केंचुआ कहते हैं केंचुआ को कभी पकड़ना और उसके ऊपर थोड़ा यूरिया डाल देना आप देखोगे केंचुआ तरफना शुरू हो जाएगा और तुरंत मर जाएगा ! जब हम टनों टन यूरिया खेत मे डालते है करोड़ो केंचुए मार डाले हमने यूरिया डाल डाल के !!
केंचुआ करता क्या है ?? केंचुए मिट्टी को नरम बनाते है पोला बनाते है उपजाऊ बनाते हैं केंचुए का कम क्या है ?? ऊपर से नीचे जाना ,नीचे से ऊपर आना पूरे दिन मे तीन चार चक्कर वो ऊपर से नीचे ,नीचे से ऊपर लगा देता है ! अब जब केंचुआ नीचे जाता तो एक रास्ता बनाते हुए जाता है और जब फिर ऊपर आता है तो फिर एक रास्ता बनाते हुए ऊपर आता है ! तो इसका परिणाम ये होता है की ये छोटे छोटे छिद्र जब केंचुआ तैयार कर देता है तो बारिश का पानी एक एक बूंद इन छिद्रो से होते हुए तल मे जमा हो जाता है !
मतलब water recharging का काम पूरी दुनिया मे कोई करता है तो वो केंचुआ है जो यूरिया के कारण मर जाता है इसलिए यूरिया डालना मतलब किसान के लिए आत्मह्त्या करने के बराबर है ! जिस किसान के खेत मे यूरिया डालेगा तो केंचुआ मर जाएगा केंचुआ मर गया तो मिट्टी मे ऊपर नीचे कोई जाएगा नहीं तो मिट्टी कठोर होती जाएगी कड़क होती जाएगी मिट्टी और रोटी के बारे एक बात कही जाती है की इन्हे फेरते रहो नहीं तो खत्म हो जाती है रोटी को फेरना बंद किया तो जल जाती है मिट्टी को फेरना बंद करो पत्थर जैसी हो जाती है !
मिट्टी को फेरने का मतलब समझते है ?? ऊपर की मिट्टी नीचे ! नीचे की ऊपर !ऊपर की नीचे ,नीचे की ऊपर ये केंचुआ ही करता है ! केंचुआ किसान का सबसे बड़ा दोस्त है ! एक केंचुआ साल भर जिंदा रहे तो एक वर्ष मे 36 मीट्रिक टन मिट्टी को उल्ट पलट कर देता है और उतनी ही मिट्टी को ट्रैक्टर से उल्ट पलट करना पड़े तो सौ लीटर डीजल लग जाता है 100 लीटर डीजल 4800 का है ! मतलब एक केंचुआ एक किसान का 4800 रूपये बचा रहा है ऐसे करोड़ो केंचुए है सोचो कितना लाभ हो रहा है इस देश को !
---
3 Maps Explain India's Growing Water Risks
---
India is one of the most water-challenged countries in the world, from its deepest aquifers to its largest rivers.
Groundwater levels are falling as India's farmers, city residents and industries drain wells and aquifers. What water is available is often severely polluted. And the future may only be worse, with the national supply predicted to fall 50 percent below demand by 2030.
Enter the India Water Tool 2. 0. The new web platform is the most comprehensive, publicly available online tool evaluating India's water risks. Created by a group of companies, research organizations, and industry associations—including WRI and coordinated by the World Business Council for Sustainable Development (WBCSD)—the tool can help companies, government agencies, and other water users identify their most pressing challenges and carefully target water-risk management efforts.
The tool illustrates the depth and breadth of India's water-related challenges. A few trends emerge:
54 Percent of India Faces High to Extremely High Water Stress
The map below illustrates competition between companies, farms and people for surface water in rivers, lakes, streams, and shallow groundwater. Red and dark-red areas are highly or extremely highly stressed, meaning that more than 40 percent of the annually available surface water is used every year.
Read more: http://www.wri.org/blog/2015/02/3-maps-explain-india%E2%80%99s-growing-water-risks