=================
Calcium Supplements May Damage The Heart
=================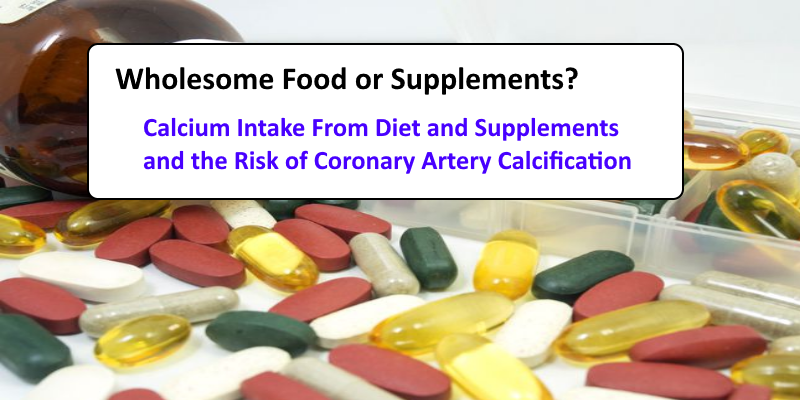 How many more decades will it take to wipe out false dogma of pill-based nutrition?
Remember once and for all : Anything artificially produced in part using reductionist science, not wholesome, is useless!
For old age calcium issues, we had wonderful solution! Paan! (Without toxic addictive substances). We have butter milk! We have curd!
———————-
According to the U.S. Centers for Disease Control and Prevention, coronary heart disease kills over 370,000 people each year in the U.S. More than half of women over 60 take calcium supplements — many without the oversight of a physician — because they believe it will reduce their risk of osteoporosis.
Taking calcium in the form of supplements may raise the risk of plaque buildup in arteries and heart damage, although a diet high in calcium-rich foods appears be protective, say researchers at conclusion of their study that analyzed 10 years of medical tests on more than 2,700 people.
---
Research
---
https://www.ahajournals.org/doi/abs/10.1161/jaha.116.003815
Calcium Intake From Diet and Supplements and the Risk of Coronary Artery Calcification and its Progression Among Older Adults: 10‐Year Follow‐up of the Multi‐Ethnic Study of Atherosclerosis (MESA)
Abstract
Background
Recent randomized data suggest that calcium supplements may be associated with increased risk of cardiovascular disease (CVD) events. Using a longitudinal cohort study, we assessed the association between calcium intake, from both foods and supplements, and atherosclerosis, as measured by coronary artery calcification (CAC).
Methods and Results
We studied 5448 adults free of clinically diagnosed CVD (52% female; aged 45–84 years) from the Multi‐Ethnic Study of Atherosclerosis. Baseline total calcium intake was assessed from diet (using a food frequency questionnaire) and calcium supplements (by a medication inventory) and categorized into quintiles. Baseline CAC was measured by computed tomography, and CAC measurements were repeated in 2742 participants ≈10 years later. At baseline, mean calcium intakes across quintiles were 313.3, 540.3, 783.0, 1168.9, and 2157.4 mg/day. Women had higher calcium intakes than men. After adjustment for potential confounders, among 1567 participants without baseline CAC, the relative risk (RR) of developing incident CAC over 10 years, by quintile 1 to 5 of calcium intake, were 1 (reference), 0.95 (0.79–1.14), 1.02 (0.85–1.23), 0.86 (0.69–1.05), and 0.73 (0.57–0.93). After accounting for total calcium intake, calcium supplement use was associated with increased risk for incident CAC (RR=1.22 [1.07–1.39]). No relation was found between baseline calcium intake and 10‐year changes in log‐transformed CAC among those participants with baseline CAC >0.
Conclusions
High total calcium intake was associated with a decreased risk of incident atherosclerosis over long‐term follow‐up, particularly if achieved without supplement use. However, calcium supplement use may increase the risk for incident CAC.