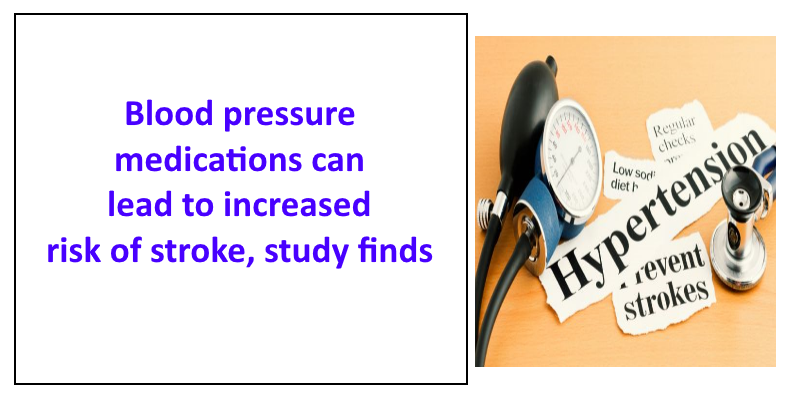 First we make life complex and then solutions used to cure make it more complex…Alice in wonderland.
And doctors are prescribing them in much younger generation now.
Try these simple solutions first:
1) Relax more often at work. Take 5 mins break after each 45 mins session. Walk or Observe Sky during this break. Inhale fresh air.
2) Do Surya Namaskar every morning
3) Regularize sleep.
4) Do body massage with sesame oil.
5) Do meditation every morning.
Basically, we need to slow down blood vessels aging. It is aging rapidly due to lack of exercise and high stress.
---
Research
---
Blood pressure medications can lead to increased risk of stroke, study finds
Untreated high blood pressure, or hypertension, wreaks havoc on the body, leading to heart disease and stroke. New research from the University of Alabama at Birmingham published in the journal Stroke shows that, although HBP medications are beneficial, it is as risky to wait for the condition to develop and then treat it to a controlled level.
A cohort of 26,785 black and white participants ages 45-plus from the Reasons for Geographic and Racial Differences in Stroke (REGARDS) study were followed for 6.3 years by a research team led by George Howard, Dr.P.H., a professor in the Department of Biostatistics in the UAB School of Public Health. At baseline, 12,327 participants were successfully treated hypertensives, meaning their HBP treatment had their systolic blood pressure < 140 mm Hg, the goal level set by the American Heart Association, and 4,090 unsuccessfully treated hypertensives.
At the conclusion of the follow-up period, more than 820 participants had experienced a stroke.
The harder hypertension is to control, the higher the risk for stroke, even if the treatment is successful. Howard says the risk of stroke went up 33 percent with each blood pressure medicine required to treat blood pressure to goal. Compared to people with systolic blood pressure below 120 mm Hg without treatment, hypertensive individuals on three or more blood pressure medications had a stroke risk of 2.5 times higher.
http://www.uab.edu/news/research/item/6102-blood-pressure-medications-can-lead-to-increased-risk-of-stroke-study-finds