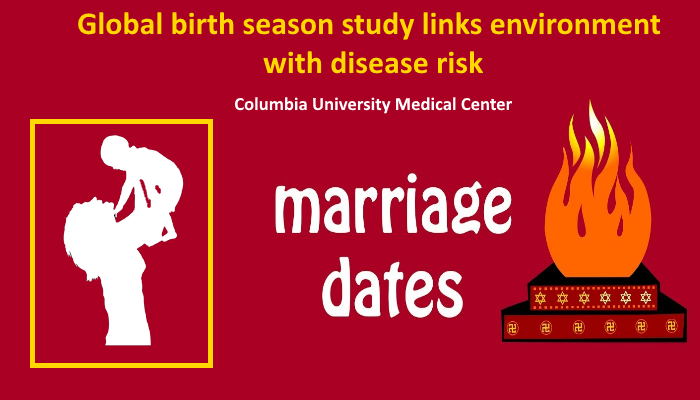 For Sanatana dharma followers, marriage is a sacred relation. It is not just for mutual enjoyment of husband and wife but to pass on torch from one generation to another so that future generations don't live in misery.
We as a parents do so much future planning so that our kids don't face financial troubles in life. To me, this is not needed at all as such protection will only make them weaker by each generation.
What is need of the hour then?
Better family planning. Not lust-driven accidental births but planned healthy birth. In our culture, marriages are often planned based on muhurt. Muhurt is decided based on Kundali of bride and groom. And best day from favorable season, possibly from हेमंत, शिशिर & वसंत season is decided. That day is day of celebration for family. It is actually a family planning day! But we ignore it and delay planning for few years!
Point here is: Muhurt and favorable season play critical role in health of upcoming generation. If you are planning for child, select proper day and season. If you are near tropical, हेमंत, शिशिर & वसंत are fine for you. As you move away from tropical region, towards north or south pole, adjust few months to summer and fall. But never lust-driven accidental planning.
Not only conception planning, it affects  mother-child duo all 9 months.
Here is the interesting research supporting role of season and possible disease risks.
---
Research
---
Uncovering exposures responsible for birth season – disease effects: a global study
https://academic.oup.com/jamia/article/doi/10.1093/jamia/ocx105/4265709/Uncovering-exposures-responsible-for-birth-season
It has becoming increasingly clear that prenatal and early childhood environmental exposures can affect one's health in adulthood. However, studying these links poses special problems. "A conventional prospective study would be lengthy, costly, and above all else, unethical," said study leader Nicholas Tatonetti, PhD, an assistant professor of biomedical informatics at Columbia University Medical Center (CUMC) and in Columbia's Data Science Institute, and a co-author of the paper. "But we can address these questions by analyzing health records, looking for connections between birth month — as a proxy for environmental exposures — and actual health outcomes."
The study also demonstrated that the strongest factor in determining whether a child would later be diagnosed with attention deficit hyperactivity disorder (ADHD) was not birth season. Rather, children who were younger than their peers at the time they were enrolled in school had a higher risk of ADHD, with an 18 percent difference in risk between the youngest and oldest children. While the findings of this study are similar to those of single-country studies, this is the first to investigate relative age and disease in multiple countries with four different school enrollment cutoff dates.
"Overall, our findings demonstrate the importance of environmental factors, including socio-environmental factors such as relative age, on the development of childhood diseases," said Dr. Boland.