Ever wondered why every other Indian around us, groomed  under colonial legacy education system setup by 1947 Independence custodians i.e. Indian National Congress, hate local culture or have very ostrich view about their roots?
It is because Indian National Congress was rooted in Anti-Sanatana Culture.
Let me share pain of renowned Ayurvedacharya Dr Bhudeb Mukerjee's book Rasa Jala Nidhi published in 1938.
For everyone's surprice, M K Gandhi is known to entire world as follower of naturopathy, makes comment against Ayurveda! 🙂
PS: Mind you – Naturopathy is not Ayurveda! Former is whims and fancies of few based on local benefits while Ayurveda is pure principles led  science!
Read it to realize why modern Indians around us don't trust Ayurveda and make fun of it. Read it why we failed to produce real Ayurvedic doctor (due to lack of trust on scriptures and blind pattern of modern education followed in modern Ayurvedic colleges)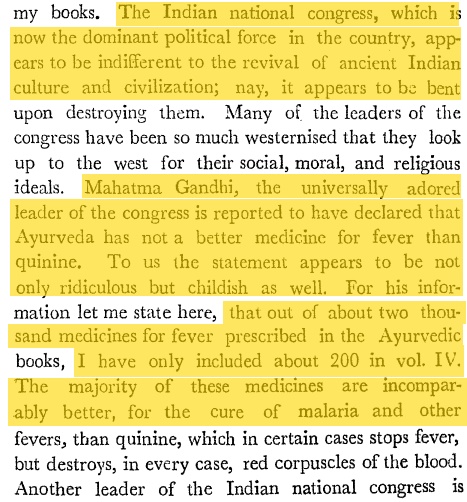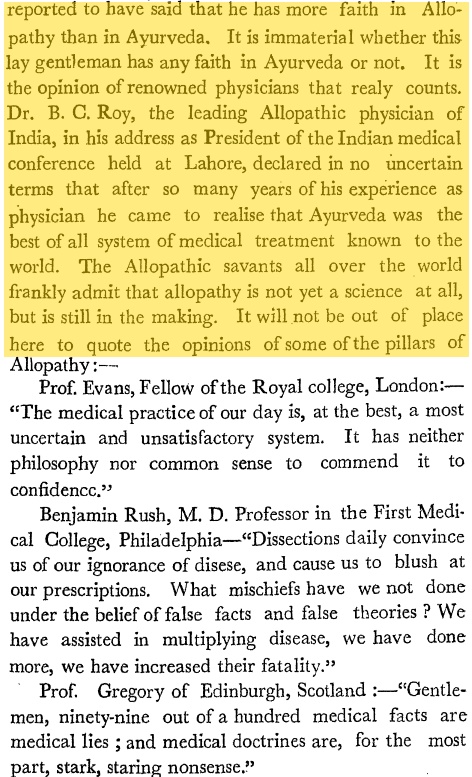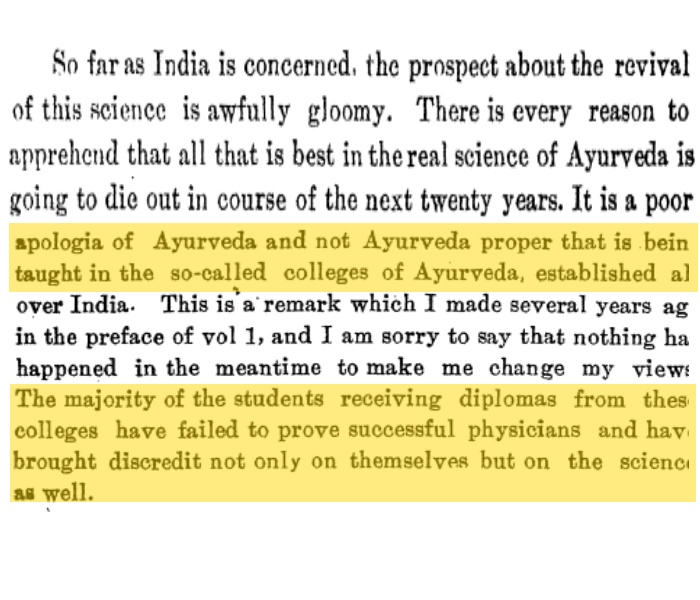 This was about Dr. Bhudeb Mukerjee's pain about then INC political leaders western love and hate for local science and culture.
Here is what Mr. Nehru said once:
Nehru's views on village society:
"A village, normally speaking, is backward intellectually and culturally and no progress can be made from a backward environment." [1]
[1] pg 9, http://el.doccentre.info/eldoc1/dsc/DSC1_B1004.pdf
With such biased views against local culture and civilization, no wonder Congress led govt promoted cow slaughter after 1947.
———————————————————————
Roots of cow slaughter in India
1954 Expert Committee on the Prevention of Slaughter of Cattle in India
———————————————————————
In 1954, the Government of India (Ministry of Food and Agriculture) appointed an "Expert Committee on the Prevention of Slaughter of Cattle in India", which gave its report in January 1955.
Do you want to know committee's startling conclusion?
Hold your breadth! 😀
In the very middle of the report, the Committee began to say that as we do not have enough fodder we cannot maintain more than 40% of our cattle. According to it, 60% of the rest had to be culled from the Indian Cattle stock, whenever possible.
Can you imagine the reason? There is no fodder so kill! 😀 Insane, illogical and fabricated!
Points to ponder upon:
1) It was Congress govt led by Nehru
2) Nehru was a meat-eater, specially beef-eater, a regular wine-drinker
3) He regularly took guidance from British Govt and queen even after 1947. It is documented fact that Kashmir mess was due to he asked Mountbatten to take decisions.
Connect the dots. Britishers did not want India to prosper so they promoted cow slaughter. Independent India's slave rulers followed the same on master's call.
Last but not the least,
Mr. Nehru believed that Vedas were written by Aryans who invaded India! lol !
For him, Sanskrit scriptures were mere mythology of primitive minds, and it was unfortunate for him that many Indians believes in Vedas as holy scriptures. For him, Vedic Hymns were mere poetic testaments of a people's collective reaction to the wonder of Nature. For him, only words of Christ and Buddha are relevant to Indians.