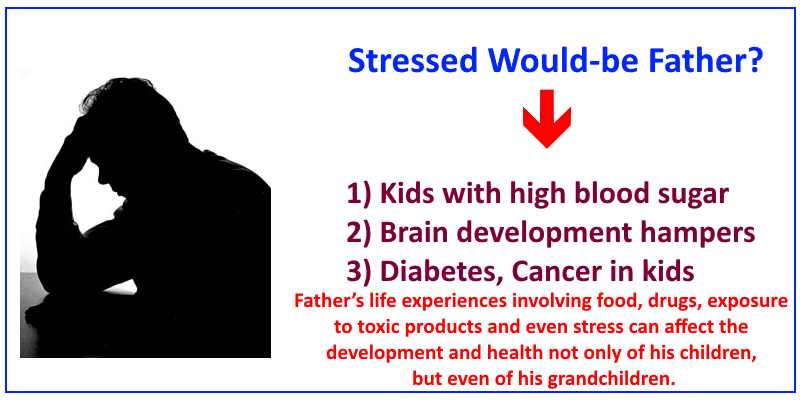 Of course, focus would be on pregnant mother for 9+ months. Her role and patience is supreme. No doubt about it. But that does not mean we ignore fatherly duties!
Pregnancy does not start when a female realizes conceived baby.It starts much before when very first thought of having kids arises in couples' mind!
Father plays critical role before pregnancy. His entire life-routine play a significant role in passing legacy to immediate offspring and all future offspring.
Documenting three studies discussing role of father.
Suggestions:
Don't take unnecessary office stress if you are planning to conceive in next 9-12 months
No family issues for 9-12 months before planning
Control on senses. No indulgence of entertainment, TV, movies etc for 12 months before child planning
Simple home-cooked food. Regular food timing
Regular exercise, walking and running
Surya Namaskara
---
Research
---
Increased stress on fathers leads to brain development changes in offspring
New research in mice has found that a father's stress affects the brain development of his offspring. This stress changes the father's sperm, which can then alter the brain development of the child. This new research provides a much better understanding of the key role that fathers play in the brain development of offspring.
https://phys.org/news/2018-02-stress-fathers-brain-offspring.html
Stressed mouse dads give their offspring high blood sugar
Paternal Psychological Stress Reprograms Hepatic Gluconeogenesis in Offspring
Both epidemiologic and experimental animal studies demonstrate that chronic psychological stress exerts adverse effects on the initiation and/or progression of many diseases. However, intergenerational effects of this environmental information remains poorly understood. Here, using a C57BL/6 mouse model of restraint stress, we show that offspring of stressed fathers exhibit hyperglycemia due to enhanced hepatic gluconeogenesis and elevated expression of PEPCK. Mechanistically, we identify an epigenetic alteration at the promoter region of the Sfmbt2 gene, a maternally imprinted polycomb gene, leading to a downregulation of intronic microRNA-466b-3p, which post-transcriptionally inhibits PEPCK expression. Importantly, hyperglycemia in F1 mice is reversed by RU486 treatment in fathers, and dexamethasone administration in F0 mice phenocopies the roles of restraint stress. Thus, we provide evidence showing the effects of paternal psychological stress on the regulation of glucose metabolism in offspring, which may have profound implications for our understanding of health and disease risk inherited from fathers
http://www.cell.com/cell-metabolism/fulltext/S1550-4131(16)30006-7?_returnURL=https%3A%2F%2Flinkinghub.elsevier.com%2Fretrieve%2Fpii%2FS1550413116300067%3Fshowall%3Dtrue
The father effect
Discovery of how environmental memories may be transmitted from a man to his grandchildren
If you have diabetes, or cancer or even heart problems, maybe you should blame it on your dad's behaviour or environment. Or even your grandfather's. That's because, in recent years, scientists have shown that, before his offspring are even conceived, a father's life experiences involving food, drugs, exposure to toxic products and even stress can affect the development and health not only of his children, but even of his grandchildren.
But, despite a decade of work in the area, scientists haven't been able to understand much about how this transmission of environmental memories over several generations takes place. McGill researchers and their Swiss collaborators think that they have now found a key part of the molecular puzzle. They have discovered that proteins known as histones, which have attracted relatively little attention until now, may play a crucial role in the process.
http://www.mcgill.ca/newsroom/channels/news/father-effect-255992